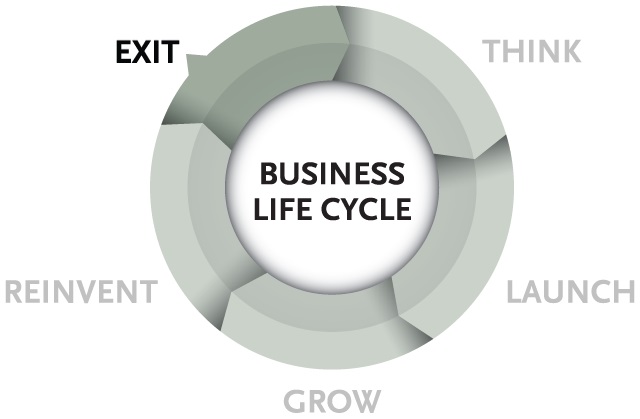 Prepare to Sell, Merge, or Close
Exiting Strategy Options

Naming Your Price

Selling Your Business

Professional Advisors

Transitioning Your Business
Where do you want to go with your business and what is your desired exit? If part of the plan is to sell your business and go into retirement, do you know what your business will be worth when you sell it? No matter what exit you have envisioned, proper planning will help you make the most of the transition and help to ensure that you realize the real value of your business.
Summary
You've decided to move on from your business and you want to be smart about it. Consider the following questions.
1. EXITING STRATEGY OPTIONS
Do you sell your business?

Do you consider a business merger?

Do you liquidate your business?

Do you rid yourself of responsibility by hiring a manager?

Do you divest or segment your business in preparation for sale?

Do you file for bankruptcy?

Do you close your business?
2. NAMING YOUR PRICE
What is your business worth?

Is there a valuation formula for your business?

How much "good will" do you have?

What are the legal and tax considerations of selling your business?
3. SELLING YOUR BUSINESS
Are there buy/sell agreements in place?

How does your exit strategy affect your personal estate plan?

What are the legal and tax considerations of selling your business?
4. PROFESSIONAL ADVISORS
Who will you consult for the best strategy to sell or close the business?

What kinds of advice will I need?
5. TRANSITIONING YOUR BUSINESS
How does your business plan support your business transition?
Business Life Cycle Stages
Some of these resources may be self-explanatory, while others might require the assistance of an SBDC Advisor. If you need assistance, contact the SBDC office nearest you.